Go Live on Youtube & Facebook with your own Studio
Setup your own live online media streaming with Blackmagic Atem Mini. Do live broadcasting talk show, cookery show, standup comedy, sports, online education & teaching, and lot of other activities. The complete setup  workflow is shown below: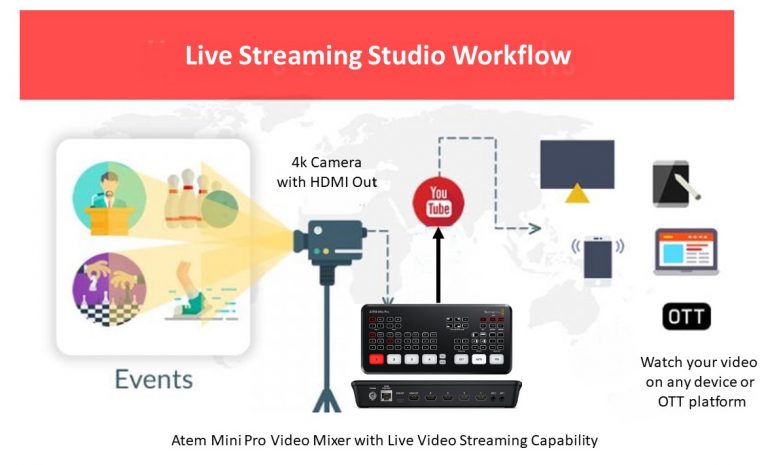 The Blackmagic ATEM Mini Pro comes pre-configured to live stream to YouTube, Facebook and Twitch along with precise encoding settings for each of those platforms. With a built-in hardware encoder, you reduce the need for a computer and greatly improve the reliability of your stream by using a dedicated hardware encoder with built-in buffering.
You can set up your own studio using the below components:
Atem Mini Pro Video Mixer with Online Streaming Capability
Blackmagic Pocket Cinema Camera 4K
Olympus 14-42mm f3.5-5.6 EZ Lens
Miliboo MTT601A Ground Level Professional Photography 3 Sections Tripod Stand
Manhattan High Speed HDMI Cables.
 Single camera online streaming solution starts @ Rs. 2.0 Lacs 
Two cameras online streaming solution starts @ Rs. 3.5 Lacs 
Call Nilesh on +91-9987473701 or email to sales@eagle.in for more details