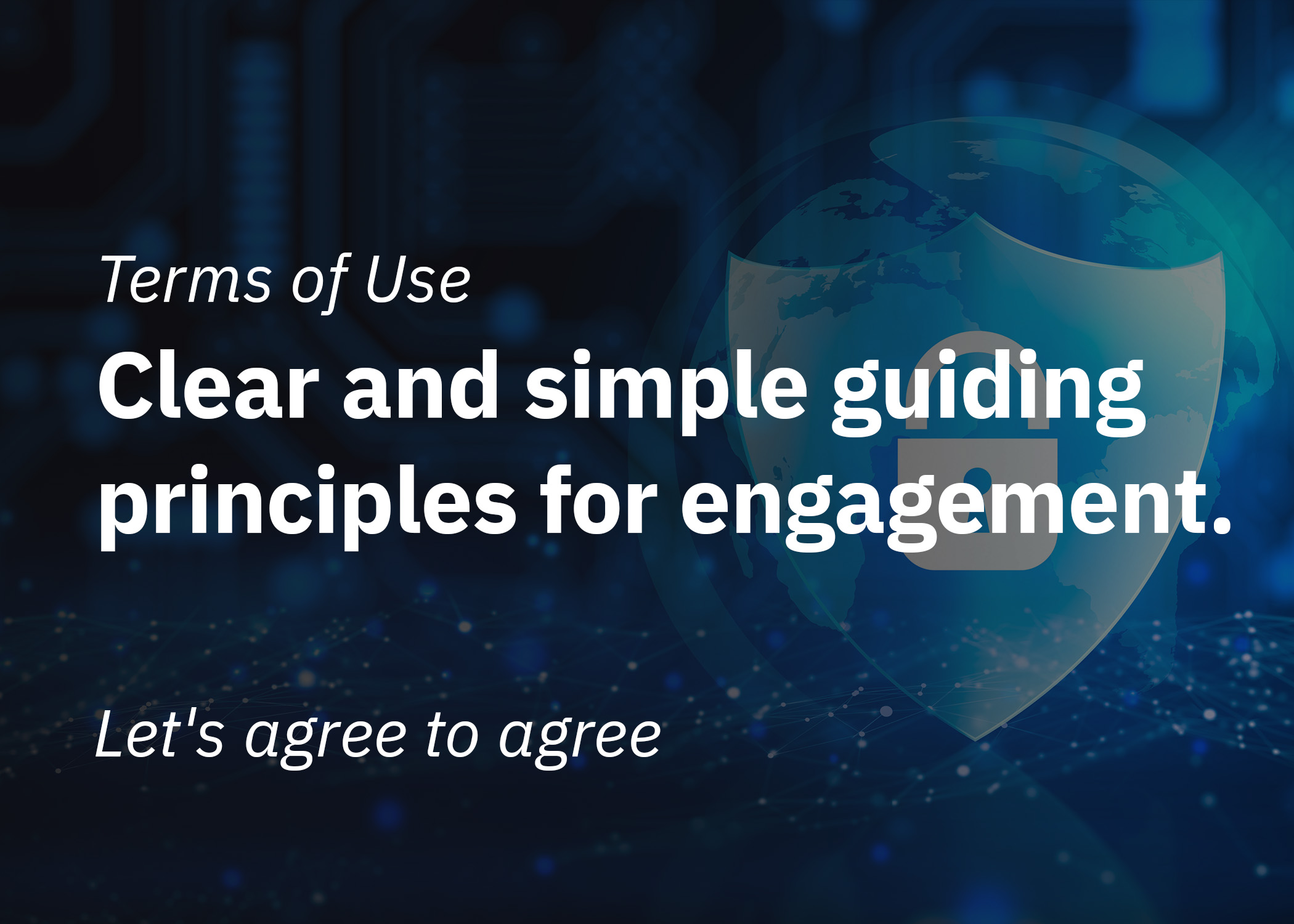 Terms of use
Welcome to the Website www.eagle.in, owned,
operated and maintained by legal entity
M/s.Eagle Information Systems Pvt. Ltd.
(herein after referred to as 'Eagle').
Terms of use
Welcome to the Website www.eagle.in, owned, operated and maintained by legal entity M/s.Eagle Information Systems Pvt. Ltd. (herein after referred to as 'Eagle').
The terms and conditions contained herein form an Agreement regulating our relationship with regard to the use of Website www.eagle.in by the User. The User is advised to read this Agreement carefully. If the User is not agreeable to any of the terms and conditions, s/he should not use this service. User should use the Website www.eagle.in services only if s/he is agreeable to all the terms and conditions of this Agreement in their entirety. If User accepts this Agreement, it will be a legally binding Agreement between the User and Eagle Information Systems Pvt. Ltd. (for Website www.eagle.in).
Governing Law : All legal proceedings shall be subject to jurisdiction of the courts in Delhi, India and shall be governed by and construed in accordance with the laws of India and the User agrees to resolve the disputes under the Arbitration and Conciliation Act 1996. The venue for such arbitration shall be at Delhi, India.
Definitions
 :"Agreement" means the terms and conditions contained herein including all Schedules, Appendices, Annexures, Privacy Policy, Cancellation & Refund Policy, Dispatch / Shipping Policy , Product Warranty Policy, Return Policy and will include the references to this Agreement as amended, novated, supplemented, varied or replaced from time to time." This website www.eagle.in  is a registered trade portal of M/s Eagle Information Systems Pvt. Ltd., 705, Madhuban Building, 55 Nehru Place, New Delhi 110019. "Website www.eagle.in" or "Website" mean the online shopping platform owned and operated by Eagle, which provides a venue to the users to buy the products listed on www.eagle.in.
"User" / "Customer" / "Buyer" shall mean the person or any legal entity that accepts the offer for sale on Website www.eagle.in by placing an order for and/or purchases any products offered for use or sale on Website www.eagle.in.
"Product/s" connotes the goods and/or services offered / promoted / displayed on the Website for use or sale.
Eligibility
User represents and warrants that s/he is competent and eligible to enter into a legally binding agreement and have the requisite authority to bind the other party to this Agreement. The User shall not use this Website if s/he is not competent to contract under the applicable laws, rules and regulations.
Terms & Conditions
Eagle reserves the right to accept or reject User's offer. Products and information displayed on Website www.eagle.in constitute an "invitation to offer". User's order for purchase constitutes User's "offer" which shall be subject to the terms and conditions as listed below. The agreement between User and Website www.eagle.in shall be subject to these terms and conditions.
These terms and conditions supersede all previous representations, understandings, or agreements and shall prevail notwithstanding any variance with any other terms and conditions of any order submitted. By using the Website, the User agrees to be bound by these Terms and Conditions.
Prices
All prices, unless indicated otherwise are in Indian Rupees. All prices and availability of products are subject to change without prior notice at the sole discretion of Eagle.
Eagle reserves the right to refuse or cancel any order placed for a product that is listed at an incorrect price. This shall be regardless of whether the order has been confirmed and/or payment received. In the event the payment has been received by Eagle, the same shall be refunded to the User.
The User agrees to pay Eagle in full, the amount of the order placed, including charges for shipping and handling and tax, if applicable. Otherwise, the items ordered remain the property of Eagle. The User is responsible for any legal expense toward collecting debts.
The User agrees that s/he will pay the shipping and handling charges for any item(s) returned to Eagle to claim warranty or in case of cancellation of order. However, in case of a mistake in shipment, for example delivery of wrong merchandise, the cost of shipping the return will be borne by Eagle.
Payment by Credit Card
In a credit card transaction, User must use her/his own credit card. Eagle will not be liable for any credit card fraud. The liability to use a credit card fraudulently will be on the User and the onus to 'prove otherwise' shall be exclusively on the User. Eagle does not share User data / card information internally or externally for any monetary consideration.
Payment by Cheque
Cheque payment facility is available only in India. Payment realization may take some time depending on when Eagle physically receives the cheque and the time taken for clearance by the bank. Charges associated with outstation cheques will be borne by the User. User must ensure sufficient balance in her/his account to avoid the cheque being returned unpaid. Cheque Return Charges @ Rs. 500/- and interest @ 24% per annum from the date of return to the date of realization will be payable on each cheque returned unpaid.
Shipping policy
For orders received along with clear and received payment, the order will be processed and dispatched subject to availability of stock on the date of order. In all cases order billing and dispatch will be 'on best and earliest effort basis' dispatch. The customer would be informed / updated by phone or email or the online website regarding the delivery schedule of the ordered merchandise.
Merchandise will be dispatched by a shipping/courier company appointed by Eagle. The mode of shipment mode shall be by surface/ air via an optimal route. The shipment service coverage is pan India only.  Shipping and handling charges, as indicated on the website will be charged. Eagle has the right to alter amend any such shipping charges to the order as so required. Days or dates specified for delivery of order are estimates only. However, in case of delays due to unforeseeable reasons or circumstances, Eagle shall not be held responsible. Eagle will also not be responsible for delivery at wrong address(es), if the address specified at the time of ordering is incorrect.  In the event that a non-delivery occurs on account of a mistake by User (e.g. wrong name, address or premises found closed) any extra cost incurred by Eagle for redelivery shall be paid by the User. Eagle is not responsible for any shipping company's error during transit or the resulting damage or loss of value, time, profit or money.  The user shall check ordered merchandise at the time of delivery for physical damage or short shipment and inform with 24 hours. No claim on these accounts shall be entertained by Eagle there after.
Product Warranty Policy
For products sold under website www.eagle.in are under warranty fulfillment and post delivery support is from the respective brand manufacturer. The products sold on the website are new and free of any defects.  User must ensure compatibility or seek support from Eagle to confirm compatibility, before placing the order. The User agrees to the warranty against manufacturing defects only from the respective brand manufacturers. The warranty period is as per stated warranty term and policy of respective manufacturer. Eagle does not offer or entertain any request for support or service on the sold product. The Warranty Card and Invoice must be presented as proof-of-purchase for making a warranty claim.
Cancellation & Refund
Goods once sold will not be taken back unless prior written consent of Eagle is obtained.
Should a situation arise wherein genuine error is made by the User in identifying the required merchandise, the User may contact Eagle and request change in the merchandise for which order is placed. However, such requests will not be entertained if the order has already been processed and, or the merchandise has been shipped to the User.
Eagle reserves the full right to decide whether an order has been processed or not. The customer agrees not to dispute the decision made by Eagle and accept the decision as so decided by Eagle
However, in case Eagle receives a cancellation notice and where the order has not been processed or shipment made, Eagle may accept the reasons submitted by the ordering User for cancellation of the order. In such cases Eagle will refund the amount. However, in the situation of a monetary loss is being incurred by Eagle due the cancellation of the User ordered item,  Eagle would deduct a sum of upto 10% of the order value towards processing/restocking charges.
Intellectual Property
All text, graphics, audio, video design and other works on the Website are the copyrighted works of Eagle or their associated business partner brand owners. Any alteration of the material or use of the material contained in the Website for any commercial purpose is a violation of the copyright of Eagle and/or its affiliates or associates or of its third-party information providers. The Content available on the Website shall not be copied, reproduced, republished, uploaded, posted, transmitted or distributed in any way without obtaining prior written permission from Eagle. All responsibility and liability for any damages caused by downloading of any data is disclaimed.
Disclaimer & Terms of Liability
Eagle makes no warranties or representations as to the contents of this Website and Eagle assumes no liability or responsibility for any errors or omissions in the content on the site. The contents are provided "as is" and without warranty of any kind, either expressed or implied, including, but not limited to, the implied warranties of merchantability, fitness for a particular purpose, or non-infringement. Eagle further makes no representation or warranty that any files, links or pointers available through this site will be free of viruses or other codes that contain contaminating or destructive properties. To the fullest extent permissible pursuant to the applicable law, Eagle disclaims all warranties, express or implied. Eagle makes no warranty that
The information will meet User's requirements
The site will be uninterrupted, timely, secure, or error-free
The results that may be obtained from the use of the site will be accurate or reliable
The quality of any information obtained by the User through the site will meet User's expectations, and any errors in the software will be corrected.
Any material, contents, data or information downloaded or otherwise obtained from the Website is at User's own discretion and risk and that she/he will be solely responsible for any damage to her/his computer system or loss of data that results from the download of any such material
Eagle is not liable on the authenticity of such data. Without limiting the foregoing, under no circumstances shall Eagle be held liable for any delay or failure in performance resulting directly or indirectly from acts of nature, forces, or causes beyond its reasonable control, including, without limitation, Internet failures, computer equipment failures, telecommunication equipment failures, other equipment failures, electrical power failures, strikes, labor disputes, riots, insurrections, civil disturbances, shortages of labor or materials, fires, floods, storms, explosions, acts of God, war, governmental actions, orders of domestic or foreign courts or tribunals, non-performance of third parties, or loss of or fluctuations in heat, light, or air conditioning. Eagle may change the format or content of the website, or any product or service offered by the website. Eagle for any reason with or without notice may terminate or suspend the operation of this website or any service provided by this website.
Dealings with Advertisers
User's correspondence or business dealings with, or participation in promotions of, advertisers on or through the Website, including payment and delivery of related goods or services, and any other terms, conditions, warranties or representations associated with such dealings, are solely between User and such advertiser. User agrees that Eagle shall not be responsible or liable for any loss or damage of any sort incurred as the result of any such dealings or as the result of the presence of such advertisers on the Website
Resale of Service
User acknowledges that s/he will not reproduce, sell, resell, duplicate or copy any part of the service. User shall also not access or use the service provided by Eagle for any commercial purpose without prior consent of Eagle in the form of an agreement.
Communication via Email
Eagle intends to send updates and promotional offers to Users via email. Users are not required to be subscribed to Eagle's mailing list and may opt out of this list at any time.
Offline Conduct
Eagle may not be monitoring the conduct of Users off the Website. It would be a breach of this Agreement by a User, to use any information obtained from the Website in order to harass, abuse, or injure any other User or any other person. Eagle deems such acts as misconduct and shall not be held responsible for any such misconduct on part of any User.
It would also be a breach of this agreement by a User to use any information obtained from the Website in order to contact, advertise, solicit or sell to any other User or any other person, without obtaining Eagle's prior explicit consent.
Termination
Without limiting any other remedies that Eagle may have available at law or in equity, Eagle, in its sole discretion, may terminate User's password, account (or any part thereof) or use of the Website, and remove and discard any content within the Website, for any reason, including, but not limited to :
violation of the stated Terms and Conditions,
violation of any applicable law, required by governing authority
lack of use or dormant.
Eagle may also, in its sole discretion, and at any time, move, change or suspend any part of service, discontinue providing the Website, or any part thereof, with or without notice. User agrees that any termination of her/his access to the Website under any provision of this Agreement may be effected without prior notice, and acknowledges and agrees that Eagle may immediately deactivate or delete her/his account and all related information and files in her/his account and/or bar any further access to such files or the Website. Further, User agrees that Eagle shall not be liable to her/him or to any third-party for any termination of her/his access to the Website.
Modification of Terms
Eagle reserves the right to modify or amend these Terms and Conditions without stating any reason. Such modification or amendments will be effective immediately upon giving notice by following means, including but not limited to, posting on the website or through email. User agrees that Eagle shall not be liable to the User or to any third party for any modification, suspension or discontinuance of the Website.
Indemnity
User agrees to indemnify Eagle and its affiliates, including its directors, employees, service providers, content providers, suppliers against any losses, claims or demands including legal fees, resulting from any violation of these Terms & Conditions, or any wrongful activity related to her/his account by her/him or any other person using her/his account.