Hyper Converged Infrastructure
Data Center Design – The New Paradigm
Traditional data centers house thousands of rack-mounted computing systems such as server, storage, and networking devices. Robust cooling systems are required to manage high temperatures generated by CPUs that handle complex computing applications. In addition, you have to install uninterrupted power backup systems to keep the equipment working. These result in massive investment in infrastructure, compounded by operational costs related to human resources, electricity and maintenance.
Managing data centers is complex, requiring maintenance of multiple silos of computing, storage, networking, and backup. In addition, for today's businesses, their employees must be able to work remotely. Therefore, organizations need to adapt and modernize their data centers to face this new challenge.
Hyper-converged Infrastructure (HCI) addresses complexity, high cost, and the need to work remotely. It offers a simpler, smarter and more cost-effective solution for your data center set up.
Hyper-converged Infrastructure
HCI combines Compute, Storage & Virtualization into a single software appliance. It provides an on-premises platform with all the benefits of the public cloud, such as agility, performance, and scalability. With HCI, you can set up virtual desktops within minutes, which can be accessed by remote workers via an internet web browser, thereby increasing employee productivity and reducing operational cost.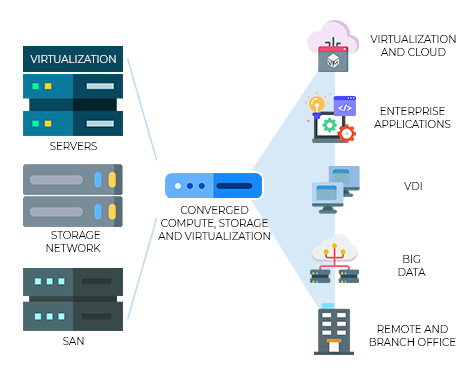 HCI from Nutanix
Eagle brings you Hyper-converged Infrastructure from Nutanix as a software-defined appliance based on standard x86 Servers. This solution provides you with all the security you need and the simplicity of a single console for management. Enterprises using the Nutanix HCI solution have reduced their infrastructure cost by as much as 60% and recurring expense of power, space, and cooling by up to 80%. Shown below is a typical configuration for a 3-node cluster solution from Nutanix and Hewlett Packard Enterprise (HPE)
HPE ProLiant DL380 Gen10 Rack Server
Dual Intel Xeon Silver 4210 (10Core/ 2.2Ghz)
64 GB Memory
2 x 960GB SFF SSD
3 x 7.68TB LFF SSD
Dual 500 Watt Redundant Power Supply
2U Rack Rail Kit
Nutanix AOS Pro – 3 Year License subscription with Production Support.
About Eagle
With 30 years of experience, a network of 7 Offices and 700+ Support locations, Eagle is an IT Services and Solutions company. We have expertise in enterprise products, end-user devices and software applications, giving you single-vendor coverage for all aspects of your IT.
Whether you are looking to set-up, enhance or transform your infrastructure, we work with you to provide the right solutions. Partnerships with leading hardware OEMs and software providers enable us to leverage their technologies and design solutions best suited for you.
Trained engineers, service desk executives and subject matter experts are part of our motivated team delivering 24x7x365 support services. Our customers in every corner of India and across the world, are a testimony to our commitment and dedication.
Call at +91-11-69039090 to discuss or email us at sales@eagle.in